In honor of
Elisa's
book release
The Golden Sky
tomorrow, she has asked the blogging community to share a story of loss today.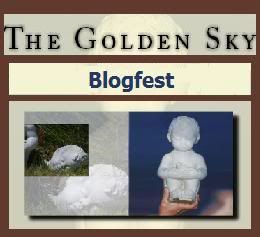 In my 27 years of life, I have been blessed. My grandparents are still alive, except for my mom's dad who died when I was only 6, and I haven't lost any aunts, uncles, or cousins. We have lost 2 of Branden's grandpas since we have been married, but those are his stories so I didn't feel right in sharing them. I did have a cat who lived to be 19 and I held her as she slipped from the world but that is for another day. Very recently, I experienced my first lost of someone who had been in my life from almost the beginning. Here's the story of my second grade teacher.
When I was very young, I had one big thing I was really looking forward to: second grade. My older sister told me the fabulous tales about how amazing it would be. What was so special about second grade? Mrs. Raycraft. Sure there were other second grade teachers, but there was nothing more exciting than knowing you got to be in Mrs. Raycraft's class. She went to the same church as us so I knew how much she loved hugs even before I stepped into her class.
When the blessed age came and the school year started, I excitedly started my year with Mrs. Raycraft. I gave her a hug every single day (probably twice if you include saying 'goodbye'), and when she hurt her arm and had it in a sling, I gave her 'half hugs' so I didn't bump her bad arm. She loved reading in her class, and two books I remember were Shilo and Where the Red Fern Grows. Shilo was about a platypus, and we had a stuffed animal Shilo that we took turns taking home for the weeknd. Now if you know anything about Where the Red Fern Grows, you would know it has a very sad ending. Even though Mrs. Raycraft read this every year to her class, she always ended up crying when she got near the end and had to have a student finish it for her. The highlight of the year though, was the month long study on Hawaii that ended with a big luau party. We learned how to spell Hawaii's state fish, the humuhumunukunukuapuaa (I didn't even have to google that!), and enjoyed some tasty food, including a coconut that had been mailed whole with the address stamped on the husk.
It was a great year, but it wasn't a sad ending because I knew that Mrs. Raycraft didn't stop at just being a second grade teacher. She loved each and every one of her students, so when summer vacation came along, she would get sad and miss being with the kids. Keeping up with her students was important as well, so she went to every year's high school graduation to see her students on. Of course I got to still see her at church, until we changed churches when I was 13, but it's a small town so she was always in and out of my life. And each time I saw her, I always gave her a huge hug. She was at my sis's graduation and at my graduation, and when my sis got married, she and her wonderful husband were at the wedding. When my wedding finally came, I excitedly sent an invitation to her and her husband, knowing that she wouldn't miss this special moment of mine for the world. And she didn't miss it. Her and her husband sat smiling in the back as I cried my way through the ceremony.
Earlier this year when I was back in the States, I worked with my mom cleaning houses. Mrs. Raycraft was finishing her last ever school year before retiring this summer and her husband was very ill and unable to get around, so my mom was cleaning her house. I got to tag along and had such a good time catching up with her husband and giving a little company to their ever so sweet German Shepherd, Maddie. The first time I went to clean with my mom, I noticed she had a photo of my sis, bro-in-law, and nephew on her fridge. It was a wonderful reminder that she was so much more than our second grade teacher.
About a week before Branden and I moved to Ireland, Mrs. Raycraft's husband passed away and I was unable to go to the funeral. The entire trip to the States, I hadn't been able to see Mrs. Raycraft and I really wished I could have been at the funeral to just give her one more hug, but sadly, we weren't able to go. Branden and I moved soon after, Mrs. Raycraft retired, and then discovered she had cancer. My mom continued to clean for her and would give reports on how Branden and I were doing. Mom would also give reports to Branden and me on how she was doing. The treatment was very harsh and she wasn't taking it very well.
We send out a monthly newsletter to our family and friends back home that Mom would print out and take to her. I also wrote her a letter and emailed it to mom to take to her. Something I've never really mentioned in my posts before, is just how Branden and I survive financially over here. The only way we have been able to pay our bills and have food to eat is from the generosity of family and friends. Mrs. Raycraft didn't have much, so I remember the tears springing to my eyes when my mom told us that she was going to be contributing what little bit she could monthly. Living by donations is humbling enough, but I felt an extra tug on my heartstrings as this woman, who had lost so much recently, and who technically was 'just my 2nd grade teacher', had yet again made sure to be there through the biggest moments of my life.
Last week, she lost her battle and joined her husband to continue her journey with her Lord. There are so many lost children in heaven and I know they now get to have Mrs. Raycraft.